Art of Journaling
Introduction
Journaling has been a popular method of self-expression for decades, and with good reason. It provides a space for individuals to pour out their emotions, reflect on their thoughts and experiences, and understand themselves better. In this article, we'll be exploring the various perspectives of experts and enthusiasts of journaling, highlighting its benefits, and how to make the most of it.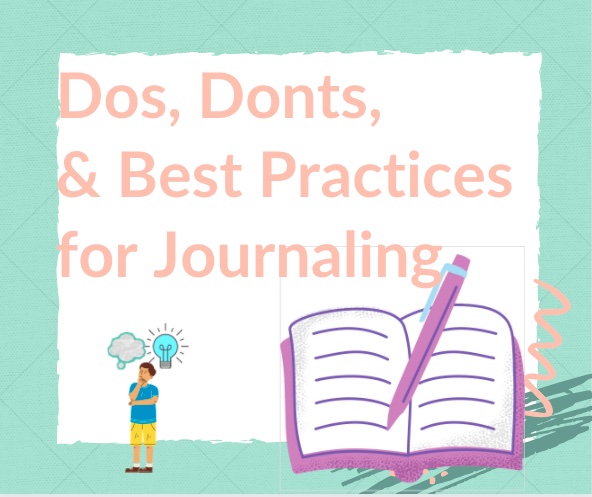 "The primary element of Journaling is avoiding conscious processing of what is being written. I find journaling the most cathartic when I write subconsciously and engage in automatic writing."
"When it comes to Journaling, the idea is to let our emotions flow and connect with what we are writing. It does not need to have a specific pattern. What is important is that venting out, reflecting, exploring oneself happens at the pace the individual is comfortable with."
"Self-care is the most important thing. I believe while journaling, one must be grateful for their surroundings. Hence one must always write at least three things they are grateful for".
"According to me, Consistency is important. If you start today and then stop tomorrow, that's different from how it works. It would help if you were consistent in seeing the results. I have tried it. Journaling helps a lot if you are consistent. And also, feel what you write. Please don't write it because you have to write. Write it and feel it."
"As a counselling psychologist as well as an enthusiast of journaling myself. One of the most important parts of the process of Journaling is self-reflection. Self-reflection helps in understanding ourselves more clearly and deeply. When people introspect, they can evaluate their thoughts, emotions, motives, and desire. One can also identify one's negative behaviour pattern and then march on to improve these behavioural patterns".
"Journaling is for the mind what exercise is for the body. Our mind has limited space, and to enjoy the present, we must accept our past for whatever it represents. But as easy as it is said, it isn't easy to implement. That's where Journaling comes to assist you. It acts as a safe venting space and also, on occasions, can provide us with pleasantness amongst a sea of difficult experiences."
"Through Journaling, we can address our fear, anxiety, and insecurities. Journaling helps define who we are and in what areas of mental health we should work. It is a significant part of cognitive behaviour therapy".
By being extremely honest & non-judgmental to oneself, one can do justice to fulfilling the purpose of writing a journal.
"Journaling is a good way to keep stress out by ventilating your feelings and helps you get through tough times, given that you do it properly and it's for you."
"When it comes to journalism, the most important thing is, to be honest. While writing down about your day or your goals, one should be humble and true to themselves."
"Being realistic and appreciative of small things you do daily rather than only when you are sad or when you've achieved something significant."
"The essential aspect of Journaling is that it is an outlet for our thoughts and feelings. Sometimes emptying the cup by writing it down helps sort things out and gives us a fresh perspective.
It doesn't have to be just the traditional idea of writing down whatever has happened in the day; it is expressing what you're feeling and when you're feeling it. It helps us understand our thoughts and emotions."
"Journaling, when implemented accurately, can be a robust therapeutic tool for an individual. Journaling is often employed to aid a client in therapy to identify their narrative, resonate with their story, and even discover more aspects of the self as they do so. It is highly subjective and can be a healing experience for many.
Journalling need not always be identified as words on paper. It can be through art as well. Research also supports the positive impact of Journaling on mental health and well-being. The most important skill is to hold that space to help the client process what comes up for them as they keep journalling."
"Expressing your emotions can reduce the discomfort you have been feeling. But, unfortunately, when emotions pile up, they can release themselves in various ways, sometimes unhealthy. Journaling is a healthy form of expressing feelings.
It gives the individual the space and creativity to write down their feelings, thoughts, emotions, and even ideas in a very personalized manner. It also helps you clear your mind and plan a course of action for the future. There are many things to remember while Journaling.
These small tips can help you start your journey or even help you maintain your habit of Journaling in the future.
Be Consistent: Even when things are going well, make it a habit to write. Most people feel that only when things are going wrong or not according to them should they vent out or write; this is not a balanced approach. To make anything a habit, you have to be consistent, so write that down even when everything is good or well managed. It's important to acknowledge everything around you; this will also help you look at things more realistically.

Get Creative: Buy a lovely diary or get creative with a journal; perhaps write down your favourite quotes from Pinterest. Stick some nice pictures or even use colourful pens. The more you make Journaling something interesting you will be able to go back to it every day.

Have Alternatives: Many of my clients complain that they forget to write or the diary is too big to carry somewhere. You can write an email to yourself from your phone or make a note on your laptop. Try and give yourself fewer reasons not to write; there is always a way out. You can keep these things in mind when you start your Journaling Journey. It's alright to pick it up again if breaks come; give it a try, and you will start reaping the benefits of writing very soon."
"Journaling plays a vital role in therapy. However, many of you would wonder what the difference is between the Journaling you all write and the ones given by mental health practitioners.
Journaling is a road map where the patient gets in touch with the thoughts and feelings that bother them. Moreover, the clients can also express themselves in a non-judgemental environment and work toward self-awareness. Henceforth journaling is not just writing a diary; it's a therapeutic activity which adds meaning to therapy and a person's overall life."
"When it comes to Journaling, the most important thing is to be free of any rules. Grammatical limitations, rationality in thought, punctuations, and the logic of words. Let it flow through you when you're attempting it. Consistency and perfection are not important in Journaling. Just showing up at your heart's desire is."
"The most important thing when it comes to Journaling is not to judge what we are writing. Sometimes we can get very self-critical even at an exercise that is supposed to be an outlet for all our emotions. Journaling is a space of honest and authentic reflection.
It allows a person to let out all the complex emotions they have been feeling and find hard to label. From not judging our quality of writing to not considering all the feelings that come up and finding space on paper, it's always best to be gentle and kind to ourselves whilst we journal."
"Journaling not only aids in emotional regulation, but it's also a physical representation of our mind right before us. It is an amazing guide to being a better person or simply understanding oneself. Understanding oneself is the most important step towards any required change in our life. That's the answer that comes to my mind at the moment."
"According to me, the most important thing when it comes to journaling is putting your unfiltered feelings and thoughts on paper without having to constantly think about grammar, the idea of "good" or "bad", etc."
"Journaling is known to be a great self-reflection tool, and thus that is the most important aspect of the process. Self-reflection is highly beneficial because it brings us face-to-face with our thoughts. A journal can provide a medium free of judgment or external inputs. We can pour our thoughts freely onto the pages, which can sometimes lead to great insights and alternative perspectives to look at the situations we are dealing with."
Conclusion
From the various insights shared by our experts, it's evident that journaling is a powerful tool for self-care and personal growth. Whether you want to manage stress, gain clarity, or just document your life journey, journaling can help you do just that. With the right approach, journaling can be a source of comfort and healing. So, whether you're an experienced journaler or just starting out, make the most of this self-care practice and give it a try today!
Related Articles :
If you like what we are doing, do spread the word.
Want to stay connected? Here's our twitter.